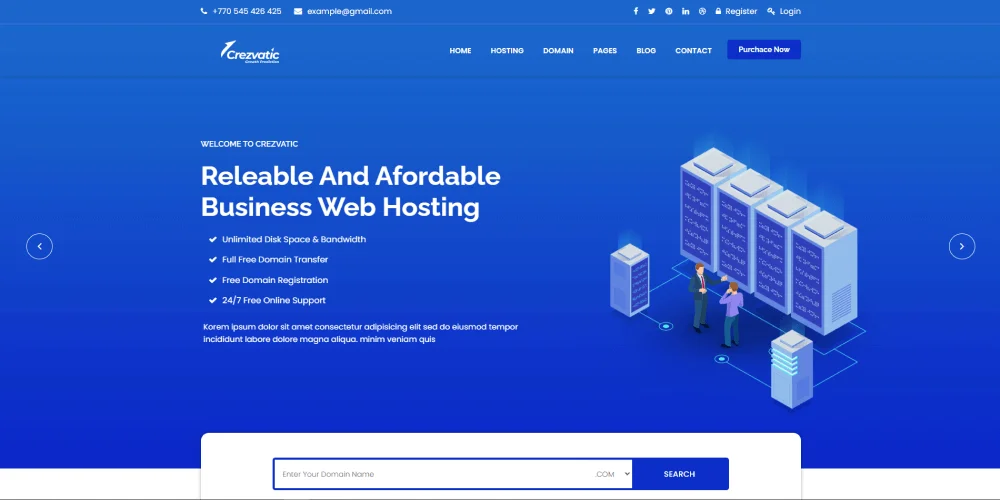 Descriptions:
The Hosting Theme is a web design template built with HTML, CSS, JS, jQuery, and Bootstrap, designed for businesses in the web hosting industry such as web hosting providers, data centers, and cloud hosting companies. This template offers a sleek, professional, and modern layout that exudes stability, performance, and scalability.
HTML is used to structure the website''''s content, including the header, navigation, footer, and various sections. CSS is used to control the presentation of the website, including the colors, typography, and layout.
The template features JS and jQuery scripts to add interactivity and dynamic functionality to the website, such as interactive charts, graphs, and sliders. These features enhance the user experience and make it easier to understand complex technical information.
Bootstrap, a widely used front-end development framework, is integrated into the template to ensure that the website is mobile-friendly and responsive. With Bootstrap, the template is designed to adapt to different screen sizes and devices, making it easily accessible and user-friendly across desktops, tablets, and smartphones.
The Hosting Theme has a sleek, professional, and modern design that is well-suited to businesses in the web hosting industry. The color palette typically reflects the brand identity of the company, with shades of blue, gray, and black that convey trustworthiness, stability, and security.
The template includes sections for hosting plans, features, technical specifications, support, and contact information. The hosting plans section lists the various hosting packages offered by the company, such as shared hosting, VPS hosting, or dedicated servers. The features section highlights the key features of the hosting plans, such as disk space, bandwidth, email accounts, and SSL certificates. The technical specifications section provides detailed information about the technical aspects of the hosting services, such as server uptime, network speed, and security features. The support section outlines the various support channels available to customers, such as phone, email, chat, and ticketing. The contact information section includes the company''''s phone number, email address, and physical address, making it easy for customers to get in touch.
In summary, the Hosting Theme is a powerful tool for businesses in the web hosting industry to create a professional and informative online presence. With its combination of HTML, CSS, JS, jQuery, and Bootstrap, it offers a flexible and robust platform for companies to showcase their hosting services, convey their brand identity, and connect with potential customers.
Read More