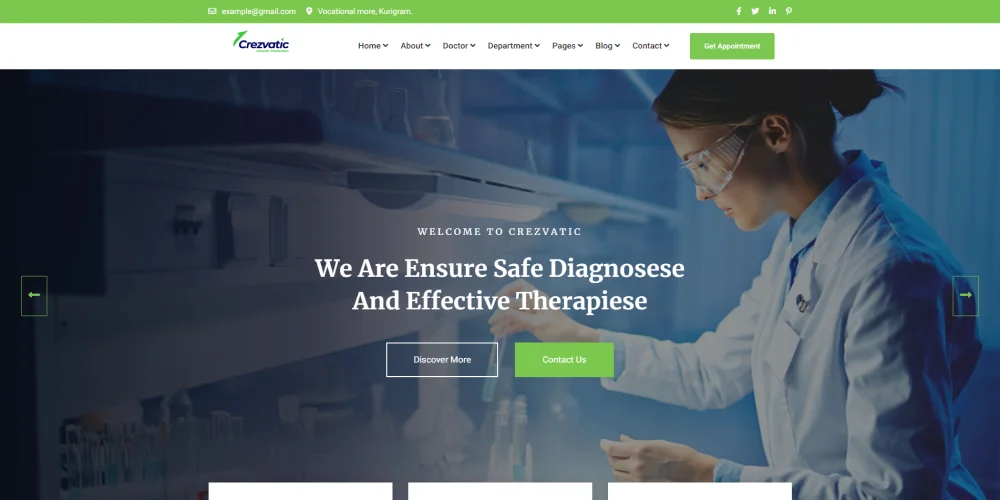 Descriptions:
A Medical Theme is a website template designed specifically for healthcare organizations such as hospitals, clinics, and healthcare professionals. It is built using HTML, CSS, JavaScript, jQuery, and Bootstrap framework to ensure responsiveness and accessibility across different devices and platforms.
The Medical Theme template offers a clean and modern design that is easy to navigate, making it ideal for patients and healthcare professionals alike. The template includes several features that are essential for healthcare organizations, such as appointment scheduling, patient testimonials, and medical service descriptions. It also offers an easy-to-use contact form that patients can use to reach out to the healthcare organization with any inquiries or to request an appointment.
One of the key features of the Medical Theme is its responsive design. The template is designed to be accessible and user-friendly on any device, including desktops, laptops, tablets, and smartphones. This ensures that patients and healthcare professionals can easily access important information, such as contact information, services offered, and appointment scheduling, no matter where they are or what device they are using.
The Medical Theme also includes a variety of pre-designed pages that can be customized to fit the needs of any healthcare organization. These pages include an About Us page, Services page, Blog page, and Contact Us page. Each page is designed to be visually appealing and informative, offering detailed information about the healthcare organization and the services it provides.
One of the standout features of the Medical Theme is its appointment scheduling system. The template includes an easy-to-use appointment booking system that allows patients to schedule appointments online. The system is designed to be user-friendly and customizable, so healthcare organizations can set up their own scheduling rules and parameters. This can save time and resources for both patients and healthcare organizations, allowing for a smoother and more efficient scheduling process.
Another key feature of the Medical Theme is its patient testimonials section. This section allows patients to share their experiences with the healthcare organization, helping to build trust and credibility. The testimonials section is designed to be visually appealing and easy to navigate, with options for sorting and filtering testimonials based on different criteria.
Overall, the Medical Theme is a highly customizable and user-friendly website template that is ideal for healthcare organizations. Its responsive design, appointment scheduling system, and patient testimonials section make it a valuable asset for any healthcare organization looking to establish a strong online presence and connect with patients in a meaningful way.
Read More